26. april 2018
New Professor in Vaccine Design and Delivery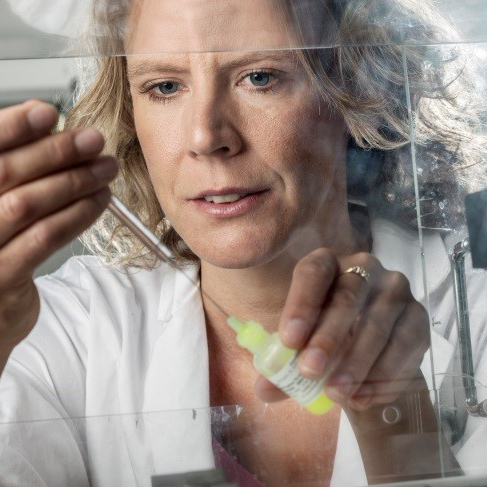 "I am very honoured and excited to take on the new challenges as professor of vaccine design and delivery", says Camilla Foged. "I am truly happy that the University of Copenhagen has decided to strengthen our research by establishing a professorship in this area. I look very much forward to fully exploiting the considerable momentum we have generated in my group during the latest couple of years. I have a very strong, skilled and talented team, wonderful colleagues at the Department of Pharmacy, and a well-developed national and international network of excellent scientists. I look forward to continuing and expanding our ongoing interdisciplinary research efforts, as well as starting up new exciting projects. Our future research will focus on vaccines and RNA-based drugs, and we will further implement imaging-guided drug delivery".
"I am also excited to continue teaching the wonderful students we have at School of Pharmaceutical Sciences", says Camilla Foged. She is involved in the teaching and supervision of bachelor- and master students, as she will continue her task as organizer of the well-reputed PhD course Drug Delivery. Further, she is highly engaged in establishing the new graduate course Advanced Pharmaceutics in the new FARMA2020 curriculum.
Profile

Camilla Foged was trained as a biochemist at University of Copenhagen, Novo Nordisk A/S and Ospedale San Raffaele, Dipartimento di Biotechnologie (DIBIT), Milano, Italy. She obtained her PhD in pharmaceutics in 2003 from The Danish University of Pharmaceutical Sciences. After postdoctoral studies at the Karolinska Hospital and Institute, Sweden, and the Faculty of Pharmaceutical Sciences, University of Copenhagen, she has since 2008 been employed at the Faculty of Health and Medical Sciences at the University of Copenhagen as an associate professor.
The establishment of this professorship in Vaccine Delivery and Design at Department of Pharmacy, University of Copenhagen, represents an important milestone in the strategic aspirations of the Department. The ambition is to develop and sustain a key hub for research and teaching within the field of Vaccine Design and Delivery based on academic excellence.